YOU LIVE IT. WE SUPPLY
Who We Are
Our Story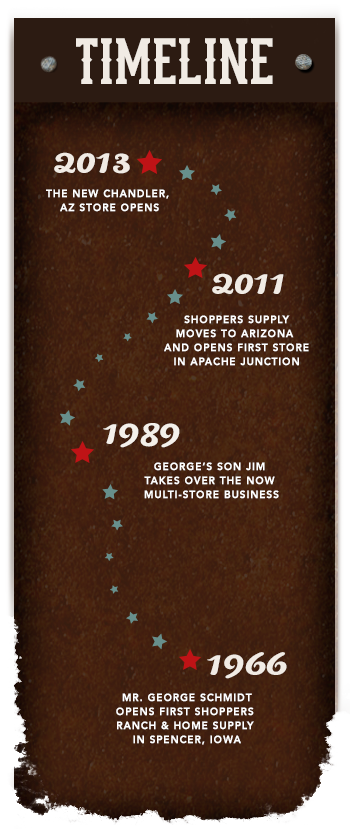 In 1966, a Mr. George Schmidt opened a small business called Shoppers Supply. Starting out as a fleet and farm operation in the rural town of Spencer, Iowa, over the years it has blossomed into a multi-store retailing business. Even today, Shoppers Supply continues to be a family-owned and operated retailer, run by three consecutive generations of the Schmidt family.
Now headquartered in Chandler, Arizona, Shoppers Supply continues its traditions and prides itself on its awesome selection, courteous service, and great prices. Prized as a long-standing industry leader in product knowledge and personalized attention, the core value of putting their customers first has never changed from the day the doors first opened.
Everyone at Shoppers Supply wishes to extend a Thank You for your patronage and for being part of our family. We look forward to welcoming you upon your return.
Our Mission
You live it. We supply it.
Our Values
Customers: We appreciate and are humbled by our customers.
Integrity: We always follow the golden rule.
Family: We are a family-owned company; family is our foundation for what we do.
Teamwork: Our successes and failures are equally shared.
Pride: We believe in rolling up our sleeves and putting in an honest day's work.
Accountability: Our actions speak louder than words.